Chicken Noodle Soup
We sometimes roast 3 chickens at once and make broth from the skin and bones. We eat fresh roasted chicken as one meal then make lots of chicken sandwiches and burritos, etc. We make a big soup or other dish from the remaining chicken. One thing that is fun and easy to make is chicken noodle soup. And so delicious.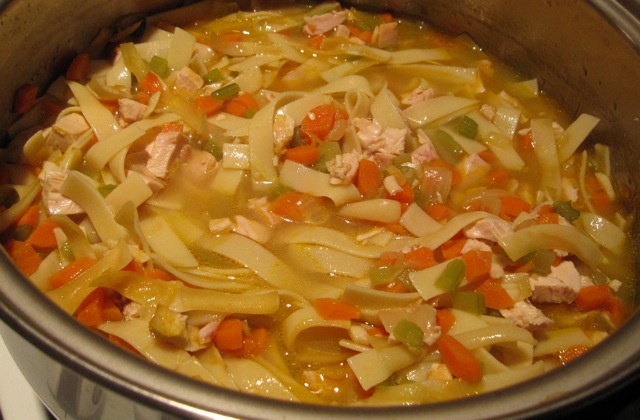 Serves 8, at least.
The Recipe
Quantities are approximate. There is lots of room for adjustment!
Ingredients:
a few tablespoons olive oil
2 medium onions, chopped
5 large cloves garlic, minced
3 or 4 large stalks of celery, finely diced
3 or 4 large carrots, diced
two or more cups of chopped broccoli florets (optional but very good)
1-1/2 cups uncooked egg noodles
2 or more cups roasted chicken, cut into bite-size pieces
1-1/2 quarts chicken broth
salt
pepper
1 lemon (half of it juiced, the other half cut into wedges)
Steps:
In large skillet, saute onions and carrots in the oil till carrots just start to get tender.
Add the celery and garlic.
If you are using broccoli, add just before the carrots are done. (Be careful to not overcook the broccoli.)
Cook all till carrots and celery are tender.
While the above is cooking, bring broth to boil and add noodles.
Cook till noodles are barely done.
Add onion mixture to broth/noodle mixture. Stir well.
Salt and pepper to taste.
Add more broth if you'd like it to be soupier.
Bring to full boil.
Stir in juice of 1/2 lemon (or more).
Serve with lemon wedges. Extra lemon really does improve the flavor (but everyone may not agree).
---
Other Recipes
Wynette's Home Page