Rebecca's Chile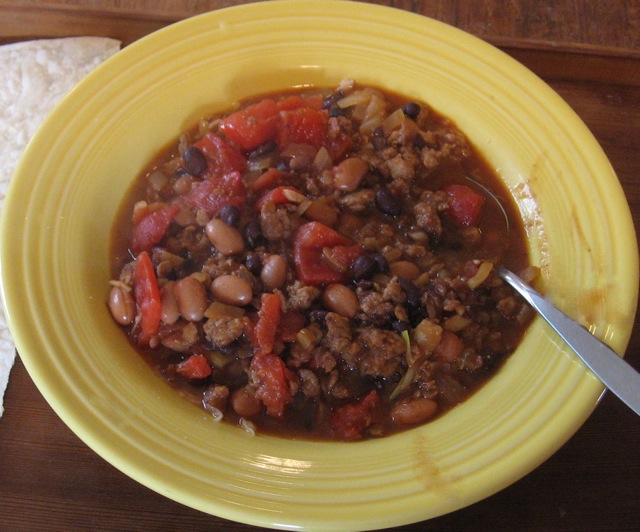 We got this delicious and easy recipe from our friend Rebecca and now Charlie and I make it quite often. We've modified the recipe a little (reflected below), but not much. Rebecca's original recipe is vegetarian but we often make it with pork or turkey.
The Recipe
Ingredients:
1 large onion, finely chopped
4 or 5 large cloves garlic, minced
cooking oil as needed
4.5 cups chopped fresh tomatoes or two 14 oz. cans canned diced tomatoes, including juice
1 T. Worcestershire sauce
2 or 3 cans cooked pinto and/or black beans, 15 oz each can, drained and rinsed (or make the beans yourself this way)
14 oz. broth or stock (chicken, vege, whatever) (if you wish, here's a way to make your own turkey or chicken broth)
ONE of the following:

14 oz. Gimme Lean, thawed, (this is vegetarian) OR
14 oz. ground pork or turkey. (We've never tried it with ground beef but that would probably be good as well.)

1 tsp. cumin powder (AKA ground cumin)
2 or 3 tsp. chile powder, adjust to taste and according to the hotness of the chile, be careful not to start with too much (we use chipotle chile powder, available at La Montanita Coop)
1/4 tsp. or more cayenne, but, use only if the chile powder isn't hot enough
1/4 to 1/2 t. salt, but, important, don't add salt if broth is already salty
grated cheese (optional, to put on top when serving)
sour cream (optional, to put on top when serving)
Steps:
Saute onions and garlic in oil.
Use a hand blender or other blender to chop up the tomatoes a little. Don't overdo it. They should still be a little bit chunky. (Tomato chunks in photo are way too big.)
Mix onions, garlic, tomatoes, Worcestershire sauce, beans, and broth in very large pot. Start heating on medium high heat.
Heat some oil in a skillet and then crumble in the Gimme Lean or ground pork or turkey. Cook till it is done but not too crispy. (Gimme Lean should have texture of ground meat.)
Stir the cumin, chile, and cayenne into the meat and cook another minute or two.
Stir the meat into the pot with the other ingredients.
Salt to taste.
Bring everything to a boil. Lower heat and simmer for 5 or 10 minutes -- or longer if you like. Add more broth if it's too thick.
It is good served with cornbread or tortilla chips or tortillas. And some like to put a little grated cheese or sour cream on top.
---
Other Recipes
Wynette's Home Page