Southwest Chicken Salad
This recipe came from the UNM employee health newsletter. It's delicious. Light and filling. Good leftover.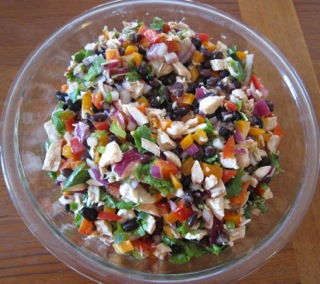 The Recipe
Salad:
12 ounces cooked skinless chicken breast, chopped (we like to prepare the chicken this way)
1/2 red bell pepper, seeded and diced
1/2 green bell pepper, seeded and diced
1/2 medium red onion, chopped finely
1 15-oz can black beans, rinsed and drained
1/2 cup fresh cilantro leaves
1/2 jalapeno pepper, finely minced (optional)
Dressing:
2 T. olive oil
2 T. orange juice
3 T. cider vinegar
1 t. ground cumin
1/2 t. chili powder
1/2 t. ground red pepper
1/2 t. salt
Steps:
Stir salad ingredients together in large bowl.
Shake dressing ingredients in a jar.
Pour dressing over salad and toss well.
---
Other Recipes
Wynette's Home Page