The biggest challenge for me is to understand Spanish spoken at a normal speed by native speakers. These resources have given me enjoyable practice. I like to listen to them repeatedly, over time, and understand them better each time. (They are great to listen to at night to fall asleep by.) The podcasts, etc. listed below are most appropriate for advanced beginners or intermediate students. The web is full of podcasts, etc., not listed, for people at the beginning and more advanced levels.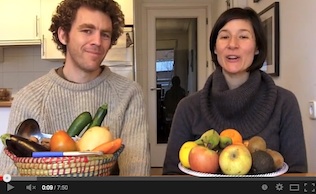 Ben and Marina hold natural conversations about various topics. In some (especially the Beginning podcasts) they look back at what they said and do some analysis in English. The audio is free. Ben and Marina also have videos on YouTube. In some they speak first in Spanish and then do analysis in English.
For intermediate learners, lively Spanish teacher Fabiana and two of her students have conversations in Spanish, often about confusing aspects of the Spanish language. Many of the recordings are free and available via podcast through iTunes, etc. They are not too hard to understand. Especially her students who have delightful Texas accents.
These free audio lessons are available via iTunes U at the above link. Excellent for beginning and intermediate learners.
The above link only brings up the first level, but there are six levels. They are available free through iTunes U under title Spanish 201. These recordings seem to be extra assignments/practice for intermediate Spanish classes taught by Rafael Ocasio. Great listening practice while learning more about Spanish grammar.
Free site (doesn't even require an account) where you can listen to spanish speakers from around the world at your chosen level. Includes a transcript.
Here are 14 short tracks where you get a chance to listen to many native Spanish speakers from all over the world. These are also available through iTunes U.
Great practice listening to native speakers.
Amusing YouTube videos for advanced beginners. Watch the episodes in order for a light-hearted Spanish soap opera.