Gus's Quinoa Cakes
Rebecca's nephew Gus Stahl provided this recipe on the web. We've modified it some, as he encourages in the recipe, to add more vegetables, etc. These lightly fried cakes are amazing. Note that everything listed as optional below is highly recommended. Nutrition facts below assume maximum amount of all optional ingredients are included. With the optional ingredients, makes about 18 cakes, 6 generous servings (three cakes each).
The Recipe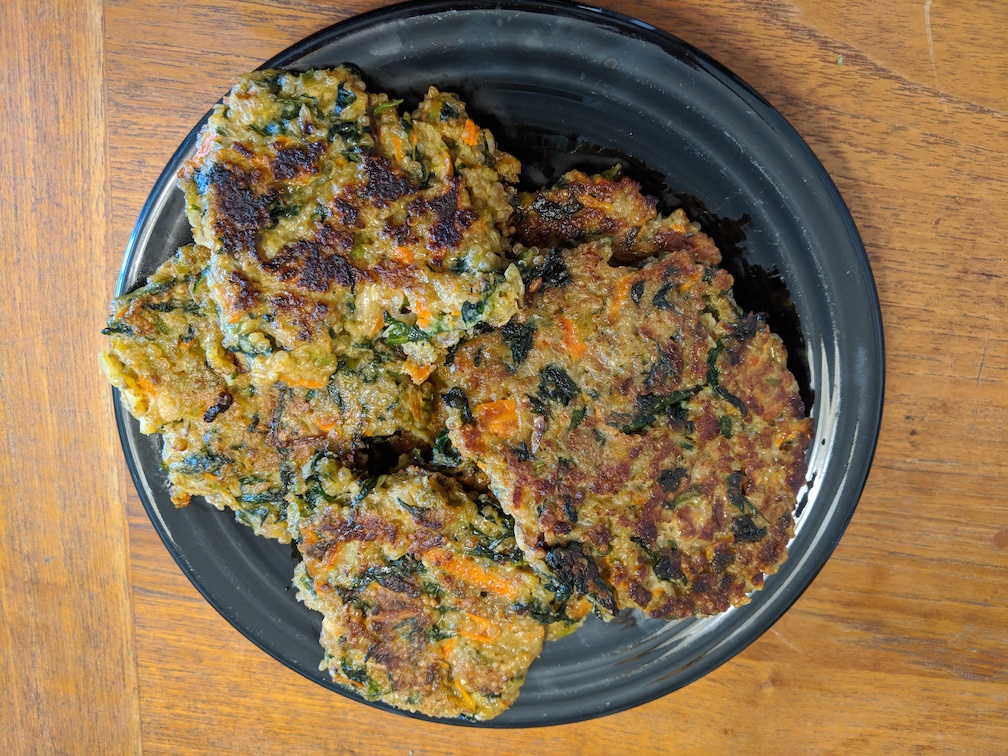 Ingredients
1-1/2 cup water, salted
1 cup uncooked quinoa
small to medium onion, finely chopped
4 or more cloves garlic, minced
Optional: 2 to 4 grated carrots
Optional: 1 or 2 cups of whatever other vegetables you have on hand, chopped into small pieces (e.g., cauliflower, brussels sprouts, broccoli, cabbage)
Optional: 1/3 to 1/2 cup chopped fresh basil
Optional: 8 or 9 cups raw greens, roughly chopped (kale, spinach, etc.)
4 large beaten eggs
1/2 cup grated parmesan or romano cheese
1 cup whole wheat flour
Approx. 5 T. cooking oil
salt and pepper to taste
Steps:
Bring the water to a boil and add quinoa. Cook for about 15 minutes, till soft and water is absorbed. Remove from heat, stir, leave covered for 5 minutes.
Sautee onions, garlic, carrots, other vegetables in 1 or 2 T of the oil. Add basil and greens at end and cook until they are wilted. Salt and pepper to taste.
Put eggs in large mixing bowl and beat.
Add flour and mix well.
Add cooked quinoa and mix well.
Add cooked onions and other vegetables and mix well. It should be consistency of ground beef. If necessary add more breadcrumbs or flour.
Add more salt and pepper if desired.
Form into patties, about 3 inches across and 1/2 inch thick.
Heat 1 or 2 T of the oil in skillet over medium heat.
Add patties to hot oil and cook till nicely browned, about 4 to 8 minutes per side. Will probably have to cook in batches. Add more oil as needed.
Serve plain or with Honey Mustard Balsamic Vinaigrette or Coconut Aminos Seasoning Sauce or whatever sauce you think sounds good.
Variations (not yet tried):
Add some green chile or jalapeno.
---
Other Recipes
Wynette's Home Page